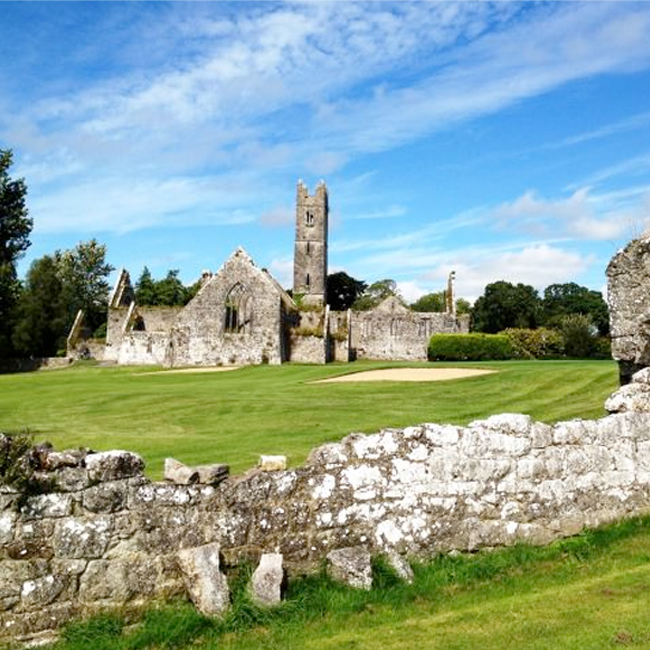 Our 120 year old club is truly steeped in history
In the late 1890's the 4th Earl of Dunraven employed Scottish professional, Ben Sayers to design a 9 hole golf course on the Earl's estate in Adare. This course was completed in 1900. In 1932 the club affiliated to the Golfing Union of Ireland and so the foundations of the current club were formed.
Even as a 9 hole course Adare Manor Golf Club had many successes, principally the winning of the All-Ireland Final of the Pierce Purcell Shield in 1985. It also produced one the most accomplished Irish amateur golfers in Jackie Harrington. Jackie was capped many times for Ireland but his finest hour came when he won the Irish Close Championship at Ballybunion in 1979.
In 1992 the current 18 hole course, designed by Eddie Hackett, was opened and in the year 2000 the club celebrated it's centenary. It was indeed fitting that the Earl of Dunraven was President of the club for the centenary year. A 5,000 year old bog oak sculpture was erected at the back of the 18th green to commemorate this special occasion and a time capsule was buried at it's base. This capsule is to be resurrected in the year 2050.
The Club won the accolade "Best Hidden Gem in Ireland" at the "Golfers Guide to Ireland" Awards in 2013. The Club was delighted to have it's unique character recognised by this prestigious national award.
Adare Manor Golf Club was delighted to host the Irish PGA Championship in October 2014. The top 104 Irish Professionals did battle over four days and Niall Kearney's birdie on the 18th gave him a one-shot win over the defending champion, Michael McGeady, with a total score of eight under par. The course is not long, at just under 6,000 yards, but it proved to be a stern test for the Irish professionals, with just six of them finishing under par after the four days.
Christy O'Connor Jnr. and his wife, Anne, were presented with honorary membership of the Club in 2014, in conjunction with their organising of a Classic in the Club in May of that year.
2014 was also significant for the Club in that it won the J B Carr Diamond Trophy for the first time. Just under two hundred teams entered the competition and the Club team won the Southern Region Final, after which they defeated the Western Region winners, Ballybofey and Stranorlar in the National Semi Final and then they triumphed over Strabane, the Northern Region winners in the Final.